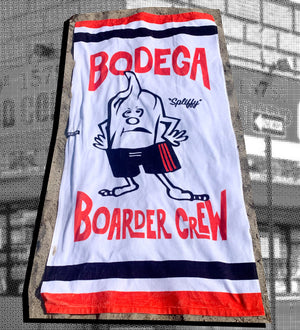 "Spliffy" BEECH BRAND towel
Spliffy is back to his old tricks again and about to smoke out your favorite spot. Thanks to our homies at BEECH TOWEL Spliffy can help you dry off and lounge at the beach. Here's their description of their technology...
" Our functionality is that our towels surface have a Revolutionary Antimicrobial Technology to help prevent the growth on a wide array of odor and stain causing bacteria, fungi, mold, mildew, algae, and is Environmentally Friendly. "
Each towel is 21" wide. This towel is a limited run and once sold out will not be printed again.